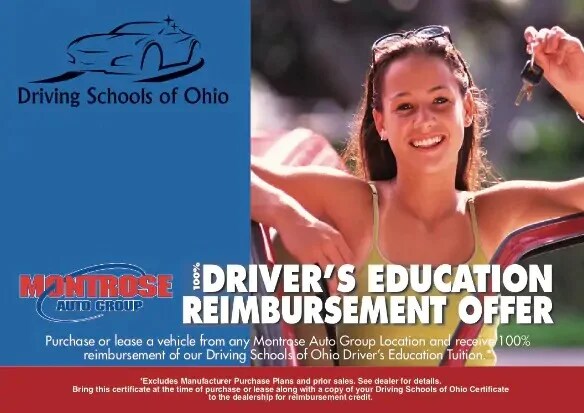 100% Driver's Education Reimbursement Program
The Montrose Auto Group and Driving Schools of Ohio Family of Driving Schools are pleased to partner on a fantastic promotion! When you get your driver's education through one of the Driving Schools of Ohio affiliated driving schools, the Montrose Auto Group will reimburse your driver's education tuition 100% when you purchase a vehicle at ANY one of our 12 Montrose dealerships! How cool is that? FREE driver's education tuition!!!
Here's how it works. Once you've completed your purchase or lease of ANY vehicle from ANY of the Montrose dealerships, simply make a copy of the Retail Buyer's Order or Retail Lease Order confirming the purchase or lease along with a copy of your Official Driver's Education Certificate. Bring that to or mail it to: Montrose Auto Group, attn: Marketing Department, 3960 Medina Road, Fairlawn OH 44333. Then expect a check for 100% reimbursement of your driver's education in a check from the Montrose Auto Group! Yep, it's that simple!
Now, the only restriction is that the vehicle can't be purchased or leased with a manufacturer plan and it must be purchased within 6 months of receiving your driver's education certificate.
The Driving Schools of Ohio Family of Driving Schools
With 40 locations throughout Northeast, Central and Southwest Ohio and being in business since 2009, we teach Driver Intelligence! Please visit any of our affiliate websites to register today:
Convenient and Contemporary Driver Training
Not all driving schools are the same. Only Driving Schools of Ohio addresses parents' main concerns about driver education: quality of the training, convenience, and help for the parent in coaching their teen to drive safely. As one of the nation's top driving schools, parents trust Driving Schools of Ohio as we feature:
Contemporary Training
Energetic professional teachers
Engaging, multi-media teaching approach
State-of-the-art facilities that stimulate learning
Convenient for Students and Parents
The most classes and in-vehicle lessons -- more than 15,000 hours of classes and 21,000 hours of in-vehicle training each year
Easy online tools to register, schedule and manage your training when it's convenient for you
Email reminders to help you keep track of in-vehicle lessons
Professional customer service a call or click away
Parent Resources
Informative introductory parent orientation
Assessments and feedback after every driving lesson
Online training to help you better coach your teen during practice driving
Many other tools to help manage the driver training and license processes